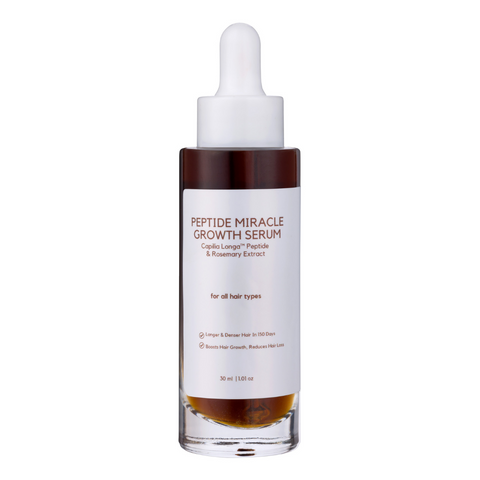 Mini Peptide Miracle Growth Serum with Rosemary Extract
Targets: hair loss, thinning hair, hair growth
Suited for: all Hair Types (1-4C)
Mini-Version (30ml) ideal to travel, pop into your handbag, or to simply try out our new product.
Say hello to the hair of your dreams with our Miracle Hair Growth Serum! Within just 150 days, experience the magic of longer, stronger, thicker and denser locks.* This groundbreaking formula works on all hair types from 1-4C and is infused with the power of Peptides, but not just any peptide - our secret ingredient is derived from Plant Stem Cells sourced from the prestigious Kurkuma plant.
Award-winning and scientifically researched, this extraordinary peptide delivers unparalleled results. Our lightweight serum is a game-changer, effortlessly nourishing and fortifying your hair follicles without leaving your scalp greasy. Get ready to witness the transformative effects of our Miracle Hair Growth Serum and unlock the hair you've always dreamed of.

👩‍💻💬 NEED HELP?
Book a free 15 min online consultation now, with our experts.
Alternatively, chat to us on WhatsApp (via WA icon in left corner)
How to use
Lightweight serum that doesn't leave your scalp oily. Daily, massage a generous amount of serum onto your scalp and massage it in, section by section. This is a leave-in treatment. Do not rinse.

Ideally used with our silicone brush to further stimulate blood flow in your scalp, which helps with hair growth.

Full Ingredients
Aqua (Water), Gluconolactone, Rosmarinus Officinalis (Rosemary) Leaf Extract, PEG-40 Hydrogenated Castor oil, Hydroxyethyl Cellulose, Glycerin, Panthenol, Curcuma Longa (Turmeric) Callus Conditioned Media, Parfum (Fragrance), Pentylene Glycol, Phytic Acid, Sodium Citrate, Sodium Hydroxide, Citric Acid, Phenoxyethanol, Ethylhexylglycerin
Combinations (Besties & No-No's)
For optimal results, use together with the Standard Beauty Hair Care Range.

Warnings/Cautions
Hero Ingredients
to get glowing
Capilia Longa™ Plant Stem Cell Peptide
Plant stem cell peptide that makes your hair sprout again. Increases hair density up to 52% within 150 days. Rebalances the hair growth cycle to delay hair loss. Activates hair follicle regeneration and boosts hair growth within 150 days.
Supports hair growth cycle and boosts hair growth. Has anti-bacterial and anti-fungal properties for a healthy scalp microbiome. Promotes circulation, which brings nutrient delivery to scalp.
Super gentle chemical exfoliant that removes dead skin cells and product build-up. Suitable for sensitive skin. Humectant properties for extra hydration. Anti-Oxidant.
Penetrates hair cortex to increase hair strength. Smoothes hair for shinier appearance. Helps prevent hair breakage.
magic
Iv had this product for a week & it is pure magic. I live everything about it.
Let's build a 7 step routine
You(r skin) deserves this. Choose a face wash, toner, water-based serum, moisturiser, oil based serum and treatments.
Bundle contents
Add 7 items to start with your perfect routine
Real Results from Real Babes
Customer Review
Products used: Salicylic Acid Toner, 0,3% Retinol Serum, Mattifying Gel & Moisture Bomb.
Products used: African Black Soap, Alpha Arbutin Serum, Mattifying Gel, Salicylic Exfoliating Polish.
Products used: African Black Soap, AHA Lactic Acid Toner, Alpha Arbutin serum, Retinol serum, Squalane serum, Mattifying Gel.
Products used: African Black Soap, AHA Lactic Acid Toner, Alpha Arbutin serum, Retinol serum, Squalane serum, Mattifying Gel.
Products used: African Black Soap, BHA Sallicylic Toner, Moisture Bomb, Pigmentation Buster serum, Squalane serum, Alpha Arbutin serum, Retinol serum.
Products used: BHA Salicylic Acid Toner, Pigmentation Buster Serum, Hyaluronic Acid Serum, Moisture Bomb.
Our Body deserve skincare, too! 🛁