Can we check you in?🛩
Taking our rewards program to the next level. Our passport-themed rewards program is your ticket to a world of skincare and beauty wonders. As you ascend through our VIP tiers, you'll unlock exclusive benefits, personalized consultations, and priority treatment.
Collect Beauty Miles on every purchase. Whether you're on first-class elite or an standard eco class, you'll receive rewards and privileges at every level. Your beauty journey starts here!
Your Beauty Journey Starts Here 💫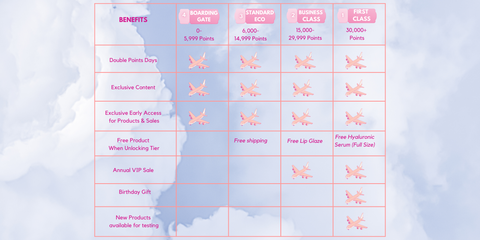 Questions?
Speak to our air hostesses aka customer service team to get you onboarded .