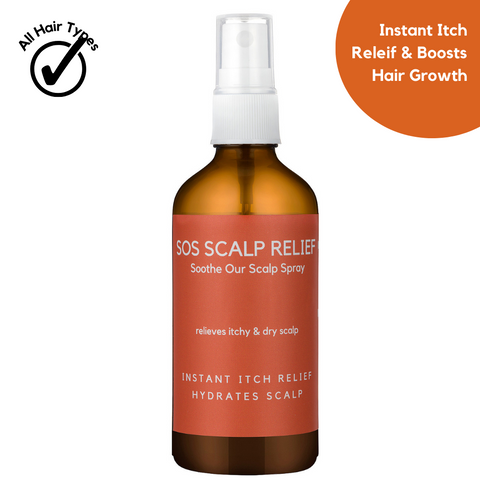 SOS Scalp Spray
Targets: hair loss, thinning hair, hair growth
Suited for: all Hair Types (1-4C)
Soothe Our Scalp Spray. Say good-bye to your itchy scalp. The best? This water is infused with our proprietary Rosemary Blend to boost hair growth and Rose Water for healthier & shinier hair. 
A soothing, hydrating mist to help calm itchiness, redness and sensitivity. This lightweight mist quickly absorbs, without leaving behind an oily residue to support a healthy scalp, which minimises future flare-ups. The scientifically proven ingredients help to reduce dandruff and sebum (oil) on your scalp.

Suitable for all hair types from 1-4C, braided and unbraided hair. 
100 ml
👩‍💻💬 NEED HELP?
Book a free 15 min online consultation now, with our experts.
Alternatively, chat to us on WhatsApp (via WA icon in left corner)
How to use
As needed, or once daily, spray a generous amount of SOS Scalp Spray onto your scalp for an instant itch-relief. This is a leave-in treatment. Shake before use.
Full Ingredients
Ingredients: Aqua (Water), Rosa Damascena (Rose) Flower Distillate, Gluconolactone, Rosmarinus Officinalis (Rosemary) Leaf Extract, Panthenol, Glycerin, Lactic Acid, Sodium Shale Oil Sulfonate, Sodium Citrate, Sodium Hydroxide, Citric Acid, Phenoxyethanol, Ethylhexylglycerin, Sodium Benzoate, Calcium Gluconate
Combinations (Besties & No-No's)
For optimal results, use together with the Standard Beauty Hair Care Range.

Warnings/Cautions
Hero Ingredients
to get glowing
Scientifically proven to reduce itchiness, irritations and to help reduce dandruff. Helps against skin impurities and reduced excess sebum production.
Rosemary Extract & Rose Water
Rosemary supports hair growth cycle and boosts hair growth. Has anti-bacterial and anti-fungal properties for a healthy scalp microbiome. Promotes circulation, which brings nutrient delivery to scalp. Rose water establishes a good foundation for hair growth. High in vitamins to nourish the scalp and stimulate hair growth.
Helps break down dry skin around roots. Dissolved product build-up. Helps improve hair health & allows roots to grow. Improves scalp's natural moisture.
Penetrates hair cortex to increase hair strength. Smoothes hair for shinier appearance. Helps prevent hair breakage.
Scalp spray
I like that there is definitely a sense of relief the second that liquid touches my scalp. I don't like that it hardens my hair ( as if I sprayed holding spray) a couple of hours later, and thereafter flakes ( flakes fall like dandruff on my shoulders if I happen to scratch my scalp or fluff my hair) and I'm a person that don't have dandruff.
Love it
it's almost instant relief for my itchy scalp when I spray this on.
so glad I found this.
SOS Scalp Spray
I was very sceptical about this spray, but I am pleasantly pleased to say that it WORKS! Spray the scalp no more itch
It works
Suddenly everyone is having scalp issues in 2023 🤔 anyway this spray really works. No more itching ! Generous size 100ml. (+read the other review)
SOS Scalp has been Helped!
During winter I have a very dry, irritated and itchy scalp. After 1 use my scalp wasn't flaky or itchy. It was soothed and felt clean. I have used it for the second time and happy to say that my scalp loves it. Don't spray too much onto your roots as I made that mistake and my hair felt dried out and stiff. 1-2 sprays in various sections should do the trick and brush out thoroughly before styling. Amazing product. Now give us a Shampoo & Conditioner ☺️ please & thank you lol
Let's build a 7 step routine
You(r skin) deserves this. Choose a face wash, toner, water-based serum, moisturiser, oil based serum and treatments.
Bundle contents
Add 7 items to start with your perfect routine
Real Results from Real Babes
Customer Review
Products used: Salicylic Acid Toner, 0,3% Retinol Serum, Mattifying Gel & Moisture Bomb.
Products used: African Black Soap, Alpha Arbutin Serum, Mattifying Gel, Salicylic Exfoliating Polish.
Products used: African Black Soap, AHA Lactic Acid Toner, Alpha Arbutin serum, Retinol serum, Squalane serum, Mattifying Gel.
Products used: African Black Soap, AHA Lactic Acid Toner, Alpha Arbutin serum, Retinol serum, Squalane serum, Mattifying Gel.
Products used: African Black Soap, BHA Sallicylic Toner, Moisture Bomb, Pigmentation Buster serum, Squalane serum, Alpha Arbutin serum, Retinol serum.
Products used: BHA Salicylic Acid Toner, Pigmentation Buster Serum, Hyaluronic Acid Serum, Moisture Bomb.
Our Body deserve skincare, too! 🛁