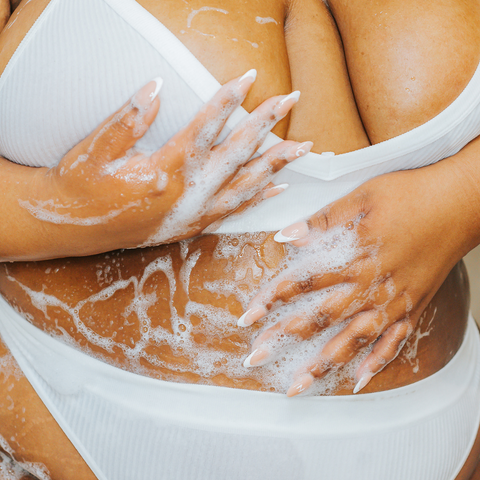 Cleared- 2% Salicylic Acid Body Wash
Targets: body acne (backne, buttne, etc.)
Suited for: Body
Bubbly gel wash that creates a rich lather with a delicious watermelon scent. Gently exfoliates to help remove dead skin cells and helps to clear out pores. Also assists in calming inflammation. Gentle surfactants help to clean skin without drying skin. 
Benefits
Chemical exfoliant
Helps minimise Body Acne (Buttne, Backne, etc.) 
Helps to unclog pores & gives a smoother skin
Vegan
Pregnancy-friendly
300 ml
👩‍💻💬 NEED HELP?
Book a free 15 min online consultation now, with our experts.
Alternatively, chat to us on WhatsApp (via WA icon in left corner)
How to use
Start by using it twice a week and build up to once a day. Can be used on the whole body or on areas of concern only.

Massage in circular movements and rinse with lukewarm water. Use with a sponge to optimise foaminess.
Full Ingredients
Ingredients: Aqua (Water), Coco-Glucoside, Polysorbate 80, Glycerin, Propanediol, Salicylic Acid, Xanthan Gum, Parfum (Fragrance), Cocamidopropyl Betaine, Sodium Phytate, Phenoxyethanol, Ethylhexylglycerin, Sodium Citrate, Citric Acid, Sodium Hydroxide, Alpha-Hexylcinnamal
Combinations (Besties & No-No's)
Do not combine with Polished- Body Scrub.
Warnings/Cautions
Increases sun sensitivity. Use with SPF.
Hero Ingredients
to get glowing
BHA (Beta-Hydroxi Acid) , a chemical exfoliant that helps to clear clogged pores, reduce sebum (oil) production and to break down pimples & blackheads.
A delicious watermelon scent for an in-shower spa experience.
Create a rich lather, hydrate your skin and cleanses your skin without drying it.
Great Body wash
I got it for my husband and it worked very well. No more bumpy skin. My husband uses it daily and his skin has improved. It smells good and doesn't leave your skin dry.
Can't recommend it more
I'm on new medication that I was warned would cause my skin to be more oily and possibly more acne prone too. Not 3 fay's later and I had a full on acne breakout over my chest and arms. I've had my eye on the Salicylic Acid body wash for a while and this was the perfect excuse to purchase and see if it would work, and honestly it did.
My skin is so much clearer and my sister has also started using it and her backne is so much less. And even with us both using it for a month, a little goes a long way and we still have a 3/4 full bottle after 30 days.
Would recommend for anyone needing a product to unclog their pores.
Bonus: it smells good and it doesn't have a scent that sticks to you, it just makes you feel fresh and clean.
Best body wash
This body wash has been a life saver for my arms back and chest during that time of the month as I struggle with hormonal ance during that time
Favourite thing in my shower at the moment
I now crave the feeling I get when I use this product with the Dewy Shower & Bath brush. Even typing this, serotonin is rushing through my body. I have recommended it to so many people in my life.
Show your body love
It took me such a long time to figure out what skincare works for me, happy to say the stuff Standard Beauty sells WORKS! I suffer from body acne and never wanted to look at this beautiful body of mine, never wore anything that exposed my arms or back, but for the first time this spring, I will be doing that.Products used: salicylic acid body wash, retinol serum, vitamin C serum
Let's build a 7 step routine
You(r skin) deserves this. Choose a face wash, toner, water-based serum, moisturiser, oil based serum and treatments.
Bundle contents
Add 7 items to start with your perfect routine
Real Results from Real Babes
Customer Review
Products used: Salicylic Acid Toner, 0,3% Retinol Serum, Mattifying Gel & Moisture Bomb.
Products used: African Black Soap, Alpha Arbutin Serum, Mattifying Gel, Salicylic Exfoliating Polish.
Products used: African Black Soap, AHA Lactic Acid Toner, Alpha Arbutin serum, Retinol serum, Squalane serum, Mattifying Gel.
Products used: African Black Soap, AHA Lactic Acid Toner, Alpha Arbutin serum, Retinol serum, Squalane serum, Mattifying Gel.
Products used: African Black Soap, BHA Sallicylic Toner, Moisture Bomb, Pigmentation Buster serum, Squalane serum, Alpha Arbutin serum, Retinol serum.
Products used: BHA Salicylic Acid Toner, Pigmentation Buster Serum, Hyaluronic Acid Serum, Moisture Bomb.
Our Body deserve skincare, too! 🛁