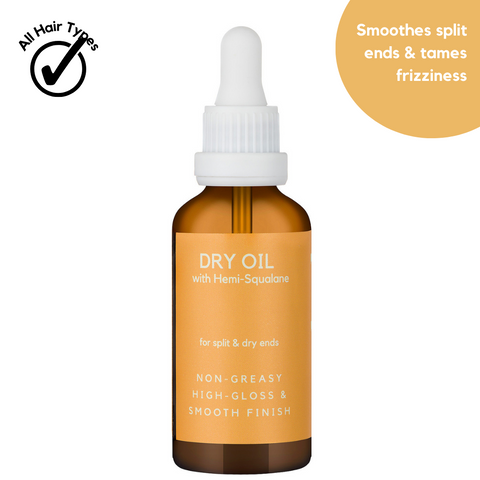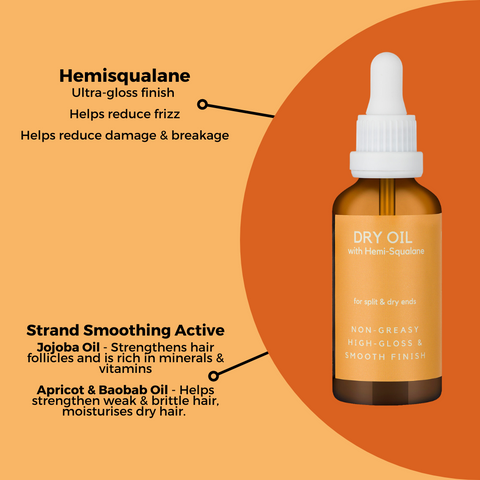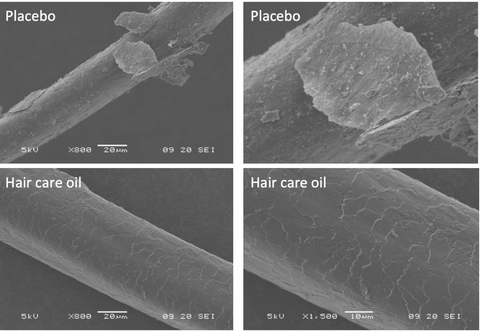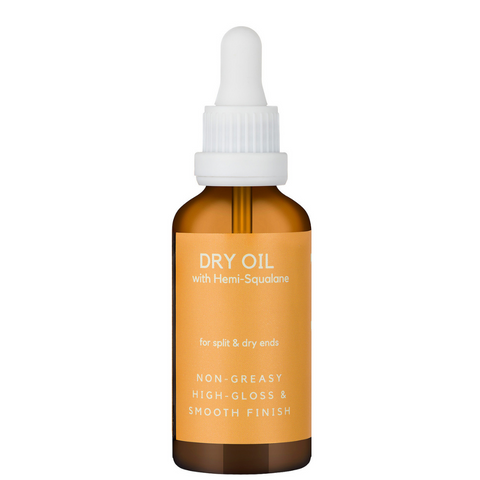 Daily Dry Oil For Smooth Strands
Targets: hair loss, thinning hair, hair growth
Suited for: all Hair Types (1-4C)
Introducing our Daily Dry Oil, enriched with the hero ingredient Hemi-Squalane, the ultimate secret to hydrated, smooth ends without the greasiness. This innovative formula offers a natural alternative to silicone while delivering exceptional strand-smoothing benefits. As you apply this luxurious oil, it effortlessly absorbs into your hair, providing deep hydration and leaving it irresistibly soft and manageable. Say goodbye to dry, frizzy ends and hello to a sleek, polished look.
Our Dry Daily Hair Oil is your ticket to effortlessly beautiful hair for all hair types (1-4C), enhancing your confidence with every application. Experience the transformative power of Hemi-Squalane and indulge in the luxurious sensation of flawlessly smooth ends, all day, every day.

 50 ml
👩‍💻💬 NEED HELP?
Book a free 15 min online consultation now, with our experts.
Alternatively, chat to us on WhatsApp (via WA icon in left corner)
How to use
This dry oil won't leave your ends looking greasy. Can be used as a pre-styling or finishing treatment. Daily, apply a generous amount onto your ends for healthier looking hair. Can also be used on dry scalp. This is a leave-in treatment.
Full Ingredients
Ingredients: C13-15 Alkane, Simmondsia Chinensis (Jojoba) Seed Oil , Prunus Armeniaca (Apricot) Kernel Oil, Adansonia Digitata (Baobab) Seed Oil, Plukenetia Volubilis (Inca Inchi) Seed Oil, Helianthus Annuus (Sunflower) Seed Oil, Tocopherol, Parfum (Fragrance)
Combinations (Besties & No-No's)
For optimal results, use together with the Standard Beauty Hair Care Range.

Warnings/Cautions
Hero Ingredients
to get glowing
Natural alternative to silicone. Ultra light-weight oil to to control frizz, increase elasticity and help prevent breakages and split-ends.
Tested on all hair types for efficacy. Nourishes the scalp and replenishes the skin barrier. Smoothes hair for glossy finish.
Coats the hair with a protective coat. Helps to tame frizziness, increases elasticity and helps to prevent breakage and split ends.
Best Styling Treatment
I've been using this product to smooth out ends and add shine after styling > it has been great with curls and straight styles without making my hair oily.
Never discontinue this product
The smell, the feel, the results!*
buy it...BUY IT NOW!!
Lovely stuff
Luxe feel dry oil, smells delicious… all the things it says above. I use it with the growth serum and anti itch spray, which can both be slightly drying.
Smells divine!It is not a heavy oil and on my relatively thin hair it does wonders against frizz! I do find it gets the dirty look quite quickly if I put it near my roots but on my strands it's great!
Let's build a 7 step routine
You(r skin) deserves this. Choose a face wash, toner, water-based serum, moisturiser, oil based serum and treatments.
Bundle contents
Add 7 items to start with your perfect routine
Real Results from Real Babes
Customer Review
Products used: Salicylic Acid Toner, 0,3% Retinol Serum, Mattifying Gel & Moisture Bomb.
Products used: African Black Soap, Alpha Arbutin Serum, Mattifying Gel, Salicylic Exfoliating Polish.
Products used: African Black Soap, AHA Lactic Acid Toner, Alpha Arbutin serum, Retinol serum, Squalane serum, Mattifying Gel.
Products used: African Black Soap, AHA Lactic Acid Toner, Alpha Arbutin serum, Retinol serum, Squalane serum, Mattifying Gel.
Products used: African Black Soap, BHA Sallicylic Toner, Moisture Bomb, Pigmentation Buster serum, Squalane serum, Alpha Arbutin serum, Retinol serum.
Products used: BHA Salicylic Acid Toner, Pigmentation Buster Serum, Hyaluronic Acid Serum, Moisture Bomb.
Our Body deserve skincare, too! 🛁