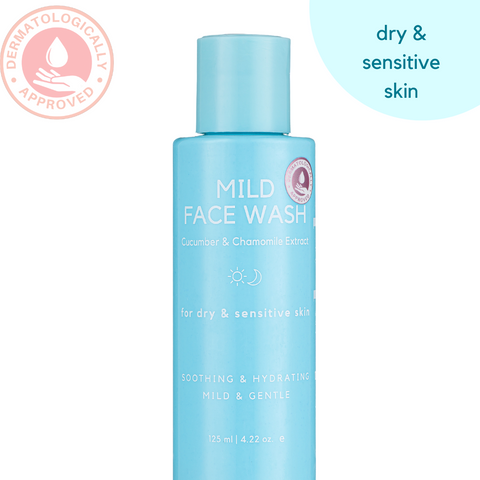 Mild Face Wash
Targets: dry & sensitive skin
Suited for: all skin types
BENEFITS:

- Gentle ingredients that don't irritate the skin
- Hydrating
- Very soothing and does not strip the skin of its natural oils
👩‍💻💬 NEED HELP?
Book a free 15 min online consultation now, with our experts.
Alternatively, chat to us on WhatsApp (via WA icon in left corner)
How to use
AM and/or PM

Apply the face wash onto your face in circular motions and rinse off with water.

Follow with normal skincare routine.
Full Ingredients
Aqua (Water), Coco-Glucoside, Rosa Damascena (Rose) Flower Distillate, Caprylic/Capric Triglyceride , Glycerin, Xanthan Gum, Butylene Glycol, Cocamidopropyl Betaine, Propylene Glycol, Cucumus Sativus (Cucumber) Fruit Extract, Anthemis Nobilis (Roman Chamomile) Flower Extract, Mica, Phenoxyethanol, Ethylhexylglycerin, CI 77891
Combinations (Besties & No-No's)
Can easily be combined with all other standard products.
Warnings/Cautions
Hero Ingredients
to get glowing
With ultra-gentle cleansing properties, this surfactant that is made from Coconuts is well-suited to all skin types, especially for sensitive skin.
Used for thousands of years to improve complexion and reduce redness. The antibacterial properties may help reduce acne. The anti-inflammatory properties can reduce skin redness.
High in amino acids and glutamine levels to preserve and improve skin moisture.
Ultra soothing and hydrating.
Not my fave
Other than the smell (which is lovely) I'm not a fan of this facewash. It is EXTREMELY difficult to squeeze out the bottle, and once you do, it's almost oily so a little goes a long way. I've had to wash my face twice as the first wash smudges my mascara under my eyes but doesn't wash it away. Not a fan for the price I paid
Favorite face wash
Finally I found a face wash that doesn't dry out my skin. Usually after washing my face it felt like I was drying out like a raisin. This face wash is perfect if you suffer from dry skin. And my breakouts have also been significantly less.
Perfect cleanser
I love this cleanser! It's mild and moisturising, so it doesn't leave your skin feeling irritated or dry. Definitely a repurchase item.
Absolute MUST HAVE!!
I have been struggling with my face for so long. Other products have always left my face dry, tight, bumpy and i almost always had a rash breakout over my face. But this product has seriously changed my life for the better. There are visible changes to my face. My pigmentation became lighter, I don't those nasty bumps on my face and I even feel confident enough to go without makeup again... a real life changer!!!
Let's build a 7 step routine
You(r skin) deserves this. Choose a face wash, toner, water-based serum, moisturiser, oil based serum and treatments.
Bundle contents
Add 7 items to start with your perfect routine
Real Results from Real Babes
Customer Review
Products used: Salicylic Acid Toner, 0,3% Retinol Serum, Mattifying Gel & Moisture Bomb.
Products used: African Black Soap, Alpha Arbutin Serum, Mattifying Gel, Salicylic Exfoliating Polish.
Products used: African Black Soap, AHA Lactic Acid Toner, Alpha Arbutin serum, Retinol serum, Squalane serum, Mattifying Gel.
Products used: African Black Soap, AHA Lactic Acid Toner, Alpha Arbutin serum, Retinol serum, Squalane serum, Mattifying Gel.
Products used: African Black Soap, BHA Sallicylic Toner, Moisture Bomb, Pigmentation Buster serum, Squalane serum, Alpha Arbutin serum, Retinol serum.
Products used: BHA Salicylic Acid Toner, Pigmentation Buster Serum, Hyaluronic Acid Serum, Moisture Bomb.
Our Body deserve skincare, too! 🛁