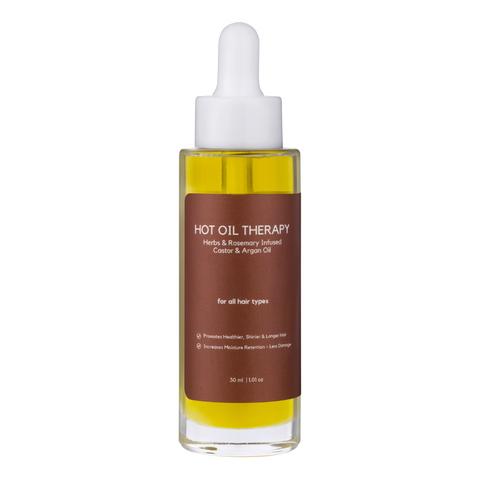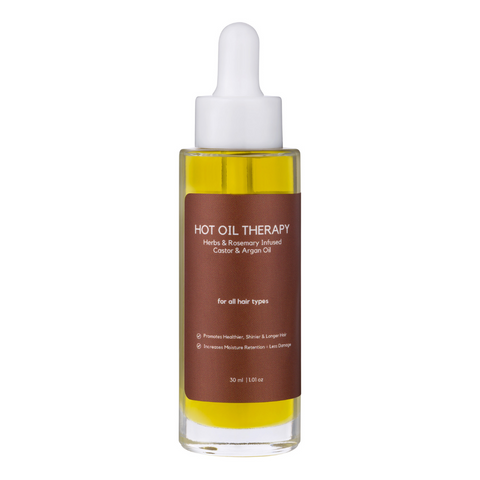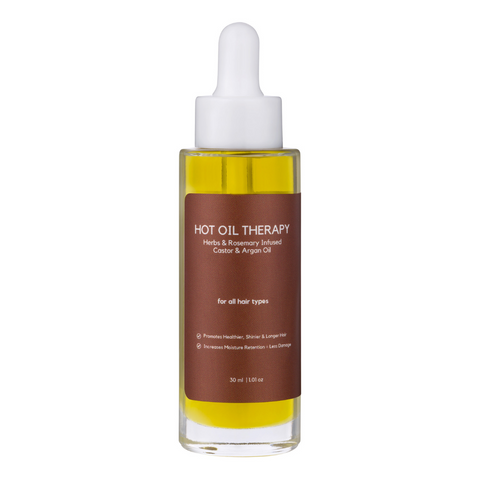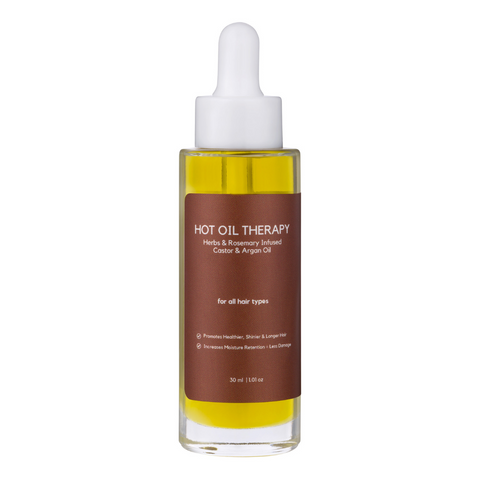 Mini Hot Oil Hair Therapy with Rosemary
Targets: hair growth, dry & itchy scalp, split ends
Suited for: all hair types
Mini-Version (30ml) ideal to travel, pop into your handbag for a glow on the go, or to simply try out our new product.
With Rosemary, Argan & Castor  oil. Infused with Nettle herbs. This powerful oil & herb infused blend can do it all. Restores and strengthens dry & damaged hair for a soft, silky finish.
Hot oil treatments may seem super old-school, but we're bringing them back for all the amazing benefits!
BENEFITS:
- Tames frizzy hair
- Repairs and strengthens damaged and dry hair
- Deep moisturising treatment
- Promotes new growth after hair loss & thinning
👩‍💻💬 NEED HELP?
Book a free 15 min online consultation now, with our experts.
Alternatively, chat to us on WhatsApp (via WA icon in left corner)
How to use
1-2x per week:

Step 1 - Thoroughly brush your hair

Step 2 - Heat up Hot Oil Hair Therapy by placing the bottle in the microwave (be sure to remove the pipette beforehand), or in a basin of hot water until hot - but not so hot that it burns your skin.

Step 3 - Apply the treatment to dry or damp hair by partitioning your hair and applying the oil section by section with the pipette. Massage each section thoroughly for a few minutes.

Step 4 - Cover your hair with a towel or shower cap and allow to sit for at least 20 minutes or overnight.

Step 5 - Rinse off and wash out with shampoo.

Step 6 - Finish off your haircare routine by applying our Squalane or Marula Oil serums to your scalp and/or ends for that extra moisturising sheen.

If your goal is hair growth, target your scalp and roots only.
If you rather need to moisturise dry hair, then take some oil in your palms and run through your hair to lightly coat the strands.
If you have dry, frizzy ends, then make that your focus.
Full Ingredients
Ricinus communis (Castor) Seed Oil, Vitis Vinifera (Grape) Seed Oil, Argania Spinosa Kernel (Argan) Oil, Rosmarinus officinalis (Rosemary) Leaf Oil, Equisetum Arvense (Horsetail)
Combinations (Besties & No-No's)
Can be used with all other Standard products.
Warnings/Cautions
Be sure not to heat the treatment so much that it ends up burning your skin.
Hero Ingredients
to get glowing
Stimulates hair growth. Prevents premature graying and dandruff. It may also help dry or itchy scalp.
Moisturises your hair & scalp and protect your hair from everyday damage. By reducing breakage and split ends and keeping your scalp healthy. Helps with hair growth and promotes thicker, fuller hair.
Helps moisturise and seal hair. This can help prevent a dry, flaky scalp and dandruff, as well as split ends and hair breakage. Helps hair look shinier, stronger, and longer.
Helps with re-growth and is rich in silica and sulphur. This helps in making hair shinier and healthier.
Let's build a 7 step routine
You(r skin) deserves this. Choose a face wash, toner, water-based serum, moisturiser, oil based serum and treatments.
Bundle contents
Add 7 items to start with your perfect routine
Real Results from Real Babes
Customer Review
Products used: Salicylic Acid Toner, 0,3% Retinol Serum, Mattifying Gel & Moisture Bomb.
Products used: African Black Soap, Alpha Arbutin Serum, Mattifying Gel, Salicylic Exfoliating Polish.
Products used: African Black Soap, AHA Lactic Acid Toner, Alpha Arbutin serum, Retinol serum, Squalane serum, Mattifying Gel.
Products used: African Black Soap, AHA Lactic Acid Toner, Alpha Arbutin serum, Retinol serum, Squalane serum, Mattifying Gel.
Products used: African Black Soap, BHA Sallicylic Toner, Moisture Bomb, Pigmentation Buster serum, Squalane serum, Alpha Arbutin serum, Retinol serum.
Products used: BHA Salicylic Acid Toner, Pigmentation Buster Serum, Hyaluronic Acid Serum, Moisture Bomb.
Our Body deserve skincare, too! 🛁