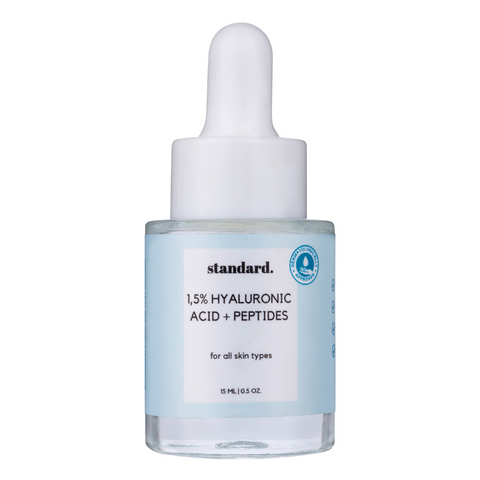 Mini Hyaluronic Acid 1,5% & Peptides Serum
Targets: wrinkles & de-hydrated skin
Suited for: all skin types
Mini-Version (15ml) ideal to travel, pop into your handbag for a glow on the go, or to simply try out our new product.

This product offers intense hydration with 1,5 % pure Hyaluronic Acid for visibly plumper skin and fewer wrinkles - resulting in luminescent, youthful skin. Hyaluronic Acid can attract up to 1000 times its weight in water by binding it to the skin. The effect is the appearance of plumper, more hydrated skin.
BENEFITS:
- Extreme hydration and plumping 
- Improved firmness & elasticity
- Anti-aging: stimulates cell growth for fewer wrinkles and fine lines
- Helps increase Lipids & collagen to s
trengthen skin barrier
👩‍💻💬 NEED HELP?
Book a free 15 min online consultation now, with our experts.
Alternatively, chat to us on WhatsApp (via WA icon in left corner)
How to use
AM and/or PM. Patch test before use.

After cleansing and toning your face, apply a few drops of Hyaluronic Acid on damp skin serum and gently massage into the skin. Follow with moisturiser, oil-based serum and SPF 50+.

Hyaluronic Acid is found in the skin naturally, but its natural function within the skin is not hydration, but rather drawing moisture from either the air or products that are applied afterwards. Therefore it is very important to apply onto damp spray and layer moisturising products on top.
Full Ingredients
Aqua (Water), Glycerin, Sodium Hyaluronate, Butylene Glycol, Nicotiana Benthamiana Hexapeptide-40 sh-Polypeptide-76, Sodium Phytate, Phenoxyethanol, Ethylhexylglycerin
Combinations (Besties & No-No's)
Can be combined with all other Standard Beauty products.
Warnings/Cautions
Apply to damp skin/ or follow with a few spritzers of our Glow Guardian to ensure optimal hydration.
Hero Ingredients
to get glowing
Mixed molecular weights to deeply hydrate the skin. Immediate plumping effect. Our skin naturally contains hyaluronic acid, which decreases with age, so by applying this serum, you restore a healthy concentration of HYA in the skin, which has anti-ageing benefits
Improves skin integrity by increasing lipids & collagen – this helps to improve the skin barrier and strengthens the epidermis. Increases skin moisture and helps skin to appear more radiant. Boosts collagen in a similar way that retinol does. Minimises pores
Shields skin from environmental sources of irritation. Makes dry skin feel soft and supple. Strengthens skin's moisture barrier and enhances penetration of other ingredients into skin's uppermost layers.
Let's build a 7 step routine
You(r skin) deserves this. Choose a face wash, toner, water-based serum, moisturiser, oil based serum and treatments.
Bundle contents
Add 7 items to start with your perfect routine
Real Results from Real Babes
Customer Review
Products used: Salicylic Acid Toner, 0,3% Retinol Serum, Mattifying Gel & Moisture Bomb.
Products used: African Black Soap, Alpha Arbutin Serum, Mattifying Gel, Salicylic Exfoliating Polish.
Products used: African Black Soap, AHA Lactic Acid Toner, Alpha Arbutin serum, Retinol serum, Squalane serum, Mattifying Gel.
Products used: African Black Soap, AHA Lactic Acid Toner, Alpha Arbutin serum, Retinol serum, Squalane serum, Mattifying Gel.
Products used: African Black Soap, BHA Sallicylic Toner, Moisture Bomb, Pigmentation Buster serum, Squalane serum, Alpha Arbutin serum, Retinol serum.
Products used: BHA Salicylic Acid Toner, Pigmentation Buster Serum, Hyaluronic Acid Serum, Moisture Bomb.
Our Body deserve skincare, too! 🛁